Keep your dog entertained
There's only so much you can do by throwing a ball back and forth, right? When fetch gets boring, it's time to change it up. Our Tug-of-Floor Dog Toy is an item that allows the dog to play with him or herself, other dogs, or you.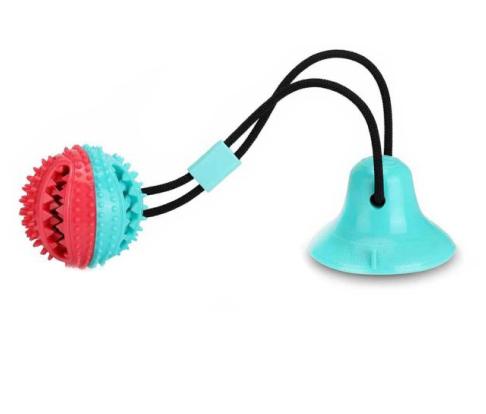 Just suction and
let the fun happen
With our tug-of-floor toy, all you need to do is stick the suction cup to a solid, smooth surface to lock it down. The stringed spiky ball will then be free for your dog to chew and pull on for hours of enjoyment. If you have more than one dog, you can watch your pooches fight over the toy, or if it's just you and your dog, you can remove the suction cup and hold that end in your hand while your pooch tugs and bites away at the serrated ball.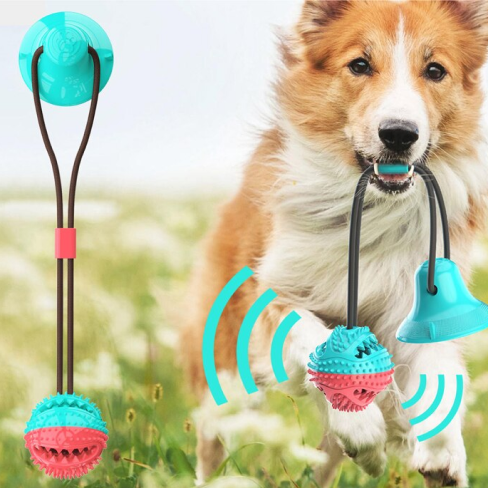 Designed for surprises
With a spiky surface for your dog to gnaw and slobber on, the ball of this toy is irresistible — and you can take the fun factor to an even higher level by filling it with dog food or a snack. Watch in delight as your dog exercises his or her teeth and mouth biting away to release the niblets. Our ball and suction cup are both made of non-toxic rubber that is safe for your dog to chew on and bite, while the string is made of thick cotton-fiber rope that won't come apart with chewing.
A multifunctional wonder that lets your dog: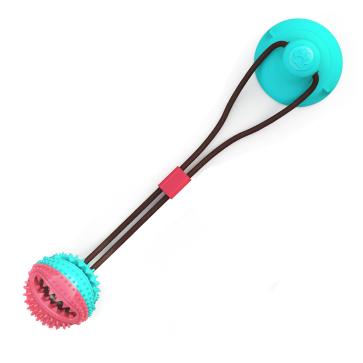 Sized + made for fun
When fully pulled out, our Tug-of-Floor Dog Toy measures 18.1 inches in length: the ball measures 3.1 inches in diameter and the suction plug measures 3.7 inches. The ball is serrated on both sides for ease of access to any food you hide, while multiple spikes all throughout allow your pooch to gnaw and chew away with wonder.